The Student Affairs Unit is one of the units under the Vice-Chancellor's Office which is to ensure that Students' Welfare in terms of health Facilities, hostel accommodation, Electricity and Water Supply as well as smooth Inter-Campus transportation systems are provided. This unit also ensures peaceful co-existence among the Students with their diverse ethnic, cultural and religions backgrounds on the two Campuses.
Professors with varied experiences who are the Vice-Chancellor's nominees, are normally appointed Deans of Student Affairs. They advise the Vice-Chancellor on issues relating to Students' Welfare and conduct. The Student Affairs Unit ensures that the image of the University is portrayed in good light locally, nationally and internationally.
Apart from the administrative Staff, the Sub-Deans of Student Affairs who are senior academic staff nominated by the Vice-Chancellor also assist the Dean of Student Affairs in running the affairs of the unit.
Hall Masters and Hall Mistresses also advise the Dean of Student Affairs Unit Affairs on matters relating to the welfare of students in their halls of residence.
The Current  Dean of Student Affairs is Professor Yakubu M.T while the Sub Dean is Dr. Ajewole Davies Ojo
Student Affairs Unit
Sub-dean: Dr. Ajewole Davies
The list of eminent Professors who had served as Deans of the Unit since the inception of the University in 1976. They are:
Professor M. O. Fagbule (1987-1989)
Professor S. O. Oyewole (1989-1993)
Professor Olu Obafemi (1993-1997)
Professor Segun Ogunsaju (1997-2001)
Professor M. A. Akanji (2001-2003)
Professor S.A. Jimoh (2003-2007)
Professor Sulyman Age Abdulkareem (2007 – 2010)
Professor Sunday Harrison Umoh(2010-2012)
Professor O.A. Omotesho (2012 – 2015)
Professor Adetayo Ebun Talabi (2015 – 2018)
Professor L.T Ajibade (2018-2022)
 Professor Yakubu M.T (2022- Till Date)
Dean Student Affairs Unit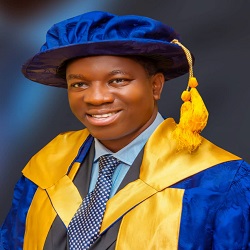 Prof. Musa Toyin Yakubu, a thorough-bred scholar, foremost teacher and administrator of repute, began his exciting educational career at Trinity Nursery and Primary School, GRA, Ilorin, in 1974, receiving his First School Leaving Certificate in 1982. For his post-primary education, he attended the famous St. Anthony's Secondary School, Offa Road, Ilorin, from 1982 to 1987, at the end of which he obtained his West African School Certificate in flying colours. Prof. Yakubu also had a brief stay (one year) at Kwara State Technology Ilorin (now Kwara State Polytechnics, Ilorin) where he went through his Advanced Levels in Physics, Chemistry and Biology at the School of Basic Studies. Between 1988 and 1992, this distinguished academic was a student in the Department of Biochemistry, University of Ilorin, Ilorin, Nigeria, where he received his Bachelor of Science in Biochemistry, Second Class Honours, Upper Division, placing third in a class of 58 students. As an individual who is not satisfied with limited knowledge and his willingness to impact knowledge, Prof. Yakubu returned to the University of Ilorin, Ilorin, in 1995, to cap his academic qualifications with a Master of Science degree in Biochemistry in 1997. His tireless efforts at acquiring intellectual sophistication were eventually crowned with a Ph.D. in the same field in 2006. He had his post-doctoral fellowship at the University of Forte Hare, Alice, South Africa from 2008 and 2009.
Prof. Yakubu commenced his remarkable working career as a Biology and Chemistry Teacher at Beje High School, Ijebu Igbo, Ogun State, in 1993, during his National Youth Service (NYSC). Between 1994 after completing his Youth Corp and 1997, Prof. Yakubu taught Chemistry at the then Effective Teaching and Learning Centre, GRA, as well as Community Secondary School, Oke Oyi as a PTA Mathematics Teacher. In 1997, Prof. Yakubu joined the services of Olashore International School (OIS), Iloko Ijesha, Osun State as a Chemistry Teacher. He resigned his appointment from OIS on 28th March, 1999 to join University of Ilorin, Ilorin.
Prof. Yakubu ultimately joined the services of University of Ilorin, Ilorin, in 1999 as an Assistant Lecturer in the Department of Biochemistry, Faculty of Science. Having given a very good account of himself as a committed and dedicated lecturer, industrious researcher and selfless contributor to community services, this erudite scholar was deservedly elevated to the prestigious pinnacle of his career as a Professor of Biochemistry in 2014. Prof. Yakubu has since been saddled with different positions of responsibilities in his eventful sojourn at the University, each of which he discharged accordingly without fear or favour. Specifically, at the Departmental level, he had been Academic Adviser, Examinations Officer, SIWES Coordinator and Postgraduate Coordinator whilst at the Faculty level, he had served as Faculty Representatives on various Boards and Chairman of Mosobolaje Oyawoye Faculty of Science Endowed Lecture amongst others. Currently, he is the Editor-in-Chief of the Journal of the Faculty of Life Sciences, Journal of Biological and Allied Sciences (JOBAS). At the level of the University, he has served as the Chairman, Faculty of Communication and Information Sciences Admission Screening Committee, Sub-Dean (Students Affairs), Member, Strategic Planning Committee, Two times Head of Department of Biochemistry and the 5th Director of University of Ilorin Central Research Laboratories. He is currently the Dean, Student Affairs Unit of University of Ilorin. At the level of the Council, Prof. Yakubu has also served as member of the Contact Group with the mandate of producing a Nobel Laureate for the University and Committee on Contract Management.
Aside his involvement in effective teaching and learning, the versatility and impact of this renowned scholar of Biochemistry has also been felt in the supervision of several generations of students of the Department, Faculty and the University. While he has guided no fewer than 672 students through their various undergraduate research projects, 56 Master degree dissertations have also passed through his watchful eyes. Furthermore, Prof. Yakubu has also supervised 22 doctoral theses many of which are doing very well as Associate Professors, Head of Departments, Heads of Units and Directors.
This distinguished Biochemist has single-handedly or jointly published 193 articles, which appeared in reputable local, national and international journals. He has a Google Scholar citation of 5670 and h-index of 42. His inaugural lecture delivered as 163rd in the series of University of Ilorin Inaugural Lectures and entitled: Knocking Down the Barriers to Four 0' Clock Activities and Reproductive Inadequacies has received unimaginable publicity since when it was successfully delivered on 29th September, 2016.
Prof. Yakubu has also participated in and presented over 90 well-researched papers at different academic fora within and outside the country, as well as a beneficiary of no fewer than five impactful training programmes within and outside Nigeria. He has also served as External Examiner at Undergraduate, Master and Doctor of Philosophy degree programmes to several universities, within and outside the country. He has also served as Assessor to several Universities for the professorial appointments as well as External Assessor to the Nigerian National Merit Award, Maitama, Abuja, Nigeria.
The services of Prof. Yakubu have also been periodically sought after by many other reputable universities within the country as Associate Lecturer, Visiting Sabbatical Professor and Adjunct Professor as well as by the National Universities Commission (NUC), Abuja, Nigeria.
This frontline don is a functional member of several academic societies such as Nigerian Society of Biochemistry and Molecular Biology, Nigerian Society for Experimental Biology (NISEB), Science Association of Nigeria and Federation of African Societies of Biochemistry and Molecular Biology. He is the immediate past West Africa Representative of the Society for Medicinal Plants and Economic Development. Currently, he is the Chairman, NISEB, Unilorin Branch, NISEB Secretariat Manager and Secretary to the Board of Trustee of NISEB. He is also on the editorial board of several journals including Biokemistri, Al-Hikmah Journal of Pure and Applied Sciences, Journal of Biologic and Applied Sciences, Journal of Medicinal Plants for Economic Development and Iranian Journal of Toxicology. He also served as Production Editor/Business Manager of Nigerian Journal of Biochemistry and Molecular Biology. Currently, he is the Editor-in-Chief of Fountain Journal of Natural and Applied Sciences, a Journal published by the College of Natural and Applied Sciences, Fountain University, Osogbo, Osun State, Nigeria.
Prof. Yakubu is a recipient of several awards and grants including 2nd Position at the 1980 National Library Week Poetry Competition held at Kwara State Library, Ilorin, Nigeria, Tate Secondary Education Grant Scheme (1982-1987), United African Companies Higher Education Scholarship (1990-1992), International Foundation for Science (IFS), Stockholm, Sweden (2005-2007) and Tertiary Institution-Based Research Intervention Allocation (2014 and 2017 respectively). In 2015 edition of Google Scholar Citations Public Profiles, he was ranked 21st among the scientists in Tertiary Institutions in Nigeria and 1st in University of Ilorin with h-index of 23 and 1707 citations.
Despite his tight engagements as a resourceful academic and researcher, Prof. Yakubu has also found time to give back to his community. He is the Chairman of the 1987 graduates (Set '87) of St. Anthony's Secondary School, Ilorin and Needs Assessment Sub-Committee of his alma mata, St Anthony's Secondary School, Ilorin. He is a member of Board of Trustees of St. Anthony's Secondary School, Ilorin. He is the endower of the yearly award of Best Graduating Science Student at Eucharistic Heart of Jesus Model College, Ilorin.
He was awarded the Fellow of the Nigerian Society of Biochemistry and Molecular Biology (FNSBMB) in 2019 and Fellow of the Nigerian Society for Experimental Biology (NISEB) in 2021. In addition, this distinguished scientist was awarded the most prestigious and highly competitive Fellow (FAS) of the Nigerian Academy of Science, NAS in 2021 in recognition of his outstanding contributions to Science and Technology in Nigeria.
Finally, this exemplary don, who enjoys writing academic papers, watching football and community development as hobbies, is married and blessed with children.