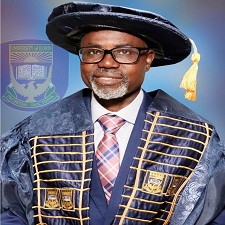 PROF. WAHAB OLASUPO EGBEWOLE, SAN,
VC PROFILE
Professor Wahab Olasupo Egbewole, SAN assumed office as the 11th Vice Chancellor, University of Ilorin on October 16, 2022. The new Vice Chancellor was born over six decades ago in Osun State where he had his primary, secondary and tertiary (LL. B and LLM degrees) education. Precisely, he was born on the 26th December, 1961 in Ile-Ife, Osun State. After his primary education, Prof. Egbewole proceeded to the Ife Anglican Grammar School, Ile-Ife, for his West African School Certificate (WASC) between 1973 and 1978. He, thereafter,trained at the famous Oduduwa College, Ile-Ife, where he earned his Higher School Certificate (HSC) in 1981. On successful completion of his HSC with flying colours, young Egbewole was admitted to the then University of Ife (now Obafemi Awolowo University), Ile-Ife, in 1981 to study Law. He earned his Bachelor's degree (LL.B) in 1984 and immediately proceeded to the Nigerian Law School, Lagos, and was called to the Nigerian Bar as a Solicitor and Advocate of the Supreme Court of Nigeria in 1985.
In 1988, Prof Egbewole went back to the renamed Obafemi Awolowo University (OAU), Ile-Ife for his Master's degree in Law (LL.M), which he earned in 1989. He capped his brilliant academic credentials with a doctorate degree in Law from the University of Ilorin in 2009. From 1985 to 1995, Prof Egbewole accumulated legal practice experience from government and private firms, and in 1995, he started his own law firm, Wahab Egbewole & Co. As an active legal practitioner, Prof Egbewole has continued to practice law and has contributed immensely to the development of Nigerian jurisprudence in several areas, particularly inelectoral jurisprudence, constitutionalism, human rights, criminal practices, and general civil practices, among others. In recognition of his shrewdness and political sagacity, he was elected by his law colleagues as the Chairman of the Nigerian Bar Association, Ilorin Branch. He had also served as a member of the National Executive Committee for the Nigerian Bar Association. He reached the pinnacle of the legal profession in 2018 when, having distinguished himself, he was appointed a Senior Advocate of Nigeria by the Legal Practitioners Privileges Committee.
Driven by the urge to contribute to legal education, the erudite Professor joined the services of the University of Ilorin in 1997 as a Lecturer II. Not long after joining the University, his vibrant industriousness and scholarship soon came to the fore, and he has used these attributes to benefit legal education and research. The career progression of Prof Egbewole has been rapid and smooth which has been attributed to his brilliance, diligence and hard work. He was promoted to the rank of Lecturer I in 1999 and served as Senior Lecturer between 2003 and 2012. He eventually attained the peak of his academic career on October 1, 2012, when he was elevated to the rank of Professor of Jurisprudence and International Law, University of Ilorin. Prof Egbewole's administrative savvy has also seen him serve the Law Faculty in numerous capacities including Acting Head of Department, Sub-Dean, Acting Dean of Law, among others. "Mr Efficiency" as he is fondly called, has also served the university in different roles, notable among which is his role as the Director, General Studies Division. As a mark of appreciation for his administrative acumen by his colleagues, the Professor of Jurisprudence and International Law was elected to represent the University Senate on the University Governing Council in 2015. He was re elected into the Council in 2019, a position he held until his emergence as the Chief Executive of the institution in September 2022. As a member of the University's Governing Council, Prof. Egbewole served as the Chairman of the Council's Committee on Contract Management and Operations, and Chairman, Committee on the Review of Membership of Council Committees, among several others. In recognition of his erudite scholarship, contribution to research and university administration, Prof Wahab Olasupo Egbewole was appointed as the 11th Vice-Chancellor of the University in October 2022.Apart from teaching and administration, Prof. Egbewole has supervised innumerable undergraduate Long-Essays. He has also supervised at least 12 Master's degree theses and six doctoral dissertations. Some of those who completed their researches under his watchful eyes are today Professors, senior lawyers and top industry players of immense values. In addition to the above, thiscerebral legal luminary is equally a well published scholar.
Prof Egbewole SAN is a prolific and consistent researcher as demonstrated by his very robust publication profile. In specifics, aside from a book publication, the Professor has intellectually stimulating and professionally exciting journal articles (40+), book chapters (30+), edited books (10+), and many completed commissioned projects to his name, all published in reputable local, national and international journal outlets and by respected national and international publishers. He also has one monograph, and five technical reports to his credit. Prof Egbewole delivered the 139th inaugural lecture of the University of Ilorin, entitled "Judex: Hope for the Hopeful and the Hopeless" on Thursday,November 28, 2013. The Professor has continued to keep himself abreast of developments in his fields of research by continuously attending several training programs. He has also continually disseminated and imbibed knowledge by attending local and international conferences where he shares the outcomes of his research works. Over the years, Prof Egbewole has shown himself to be a very resourceful academic by facilitating several national and international research grants to the University, worth millions in Nigerian currency. These include Travel Grant to participate in the 2022 Global Meeting on Law & Society in Lisbon, Portugal; Yiaga Africa and European Union Grant for the development of E-Clinic Election Curriculum; the Open Society Initiative for West Africa (OSIWA) Grant for the disability project of the Department of Jurisprudence and International Law, Faculty of Law; and the Law and Society Research Grant for Annual Conference held in Washington DC, 2019, among no fewer than 20 others. These research grants were deployed to further research of practical benefits to the society.
Like a goldfish that has no hiding place, Prof Egbewole has so distinguished himself that his academic and legal skills have been sought after by local and international establishments as evidenced by his membership on notable education boards like the Board of Studies of the Council of Legal Education; his participation on many law review committees; and as a reviewer for local, national and international law journals. In addition, the learned Professor has acted as an external examiner for Ph.D theses and assessor for the appointment of Readers and Professors both in Nigerian and overseas universities. Among these institutions are the University of Ibadan, Obafemi Awolowo University, IleIfe; the University of Abuja, the University of Lagos, Enugu State University,Osun State University, Osogbo; Fountain University, Osogbo; the River State University of Science and Technology, Port-Harcourt; Umaru Yar' Adua University, Katsina; and the Lagos State University, Ojoo. Prof. Egbewole is also not a national champion. He was deservedly engaged as an External Examiner by the University of Pretoria, South Africa. He also served, meritoriously, as an academic auditor to the University of Cape Coast, Ghana. This distinguished legal luminary is a member of many respected professional organisations, both nationally and internationally, including but not limited to the Nigerian Bar Association, the American Society of International Law, the African Bar Association, the International Bar Association, African Consortium on Law and Religion Studies, the Chartered Institute of Arbitrators (UK). Other professional bodies to which he belongs are the Nigerian Society for International Law (NSIL), the Nigerian Law Teachers Association (NLTA) and the Law and Society Association. Aside from being conferred with the prestigious title of Senior Advocate of Nigeria (SAN) by the Legal Practitioners Privileges Committee (LPPC) in 2018, he is also a Fellow of the Nigerian Institute of Chartered Arbitrators (NICArb) and the Society for Peace Studies and Practice (SPSP). Prof Egbewole also held leadership positions in some of these professional bodies, such as Chairman and Editor-in-Chief of the Ilorin Branch of the Nigerian Bar Association (NBA); Member, National Executive Committee of the NBA; Chairman, Academic Staff Union of Universities (ASUU), University of Ilorin Branch; Editor-in-Chief, Journal of the Society for Peace Studies and Practice; National President, Obafemi Awolowo University Muslim Graduates Association (UNIFEMGA); and National Secretary, Islamic WelfareFoundation (IWF).
In the realm of community development services, Prof. Egbewole has been a legend. He had served variously as a Member, Secretary and Chairman of one Committee or the other. These include the Committee for the Review of Laws of Oyo State; the Osun State Law Revision Committee and the Panel of Inquiry,Ekiti Local Government of Kwara State. He was also a Member, Board of Studies, Council of Legal Education and the Governing Council, Office of the Public Defender of Kwara State. He also served as a Resource Person to the House of Representatives Committee on Electoral and Political Parties Matters in November, 2016. He was also an Editorial Consultant to Al-Hikmah University, Ilorin Journal of Public and International Law as well as Consultant to the Nigeria Institute for Legislative Studies; Editorial Board Member, Nigerian Institute of Advanced Legal Studies Journal; Member, Roving Group of the Joint Admissions and Matriculation Board (JAMB); Resource Person to the House of Representatives Committee on Electoral and Political Parties Matters; Chairman, Research Thematic Group, International Coordination Research Group (ICRG), International University Network on Cultural and Biological Diversity (IUNCBD); Newsletter Editor and later Chairman, Negligence and Damages Committee, International Bar Association (IBA); Co-Chairperson, International Society of Public Law (ICON.S), Nigeria Chapter; and Coordinator, Collaborative Research Network (CRN) 47, Law and Society Association. To his ancestral community of Ile Ife, Prof. Egbewole has been a very useful member and leader. He was the President, National Ife Descendants Students Association between 1984 and 1985. He has been serving as the Legal Adviser to the same body since 1999. He was a member of the NTA Ife Station Project, member of Ife Forestry and Development Board and Ife Development Board. He has also been the Chairman, Peace and Security Committee of the Ife Development Board. He is also the founder of Egbewole-Banjo Foundation which is a platform for providing services that will accelerate socio-economic development of individuals and groups with the hope that the reward that will accrue to these services from Allah will be credited to these two great men through education, empowerment and mentorship. A deeply religious man, Prof. Egbewole is a Member of the Muslim Lawyers Association of Nigeria (MULAN) and an active member of the Islamic Welfare Foundation (IWF). Prof. Egbewole, a very humble, pious and friendly scholar, is happily married to Hajia Muibat Adeola Egbewole and the marriage is blessed with children.