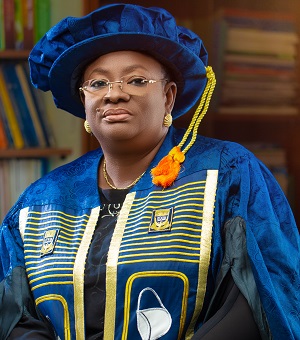 Dr. Mrs. F.M. Olowoleni
Dr. Folaranmi Modupe Olowoleni (Nee Babatolu), a native of Takete-Isao, Yagba-East Local Government Area of Kogi State, was born in Lokoja, Kogi State on April 19. She had her early education at St. Louis Private Primary School, Bompai, Kano, 1972; and St. Louis Secondary School, Kano, 1977.
She attended Ahmadu Bello University, Zaria, Kaduna State, for her first degree in Business Administration (1982). She had an M.Sc. in Management Sciences from the University of Ilorin in 2009; and in 2015, she capped her educational endeavours, for a well-groomed strengthening or solidification, with a Ph.D. from the same University of Ilorin.
The Registrar joined the services of the University of Ilorin as a Principal Planning Officer at the Academic Planning Unit in the Vice-Chancellor's Office on January 20th 1992.
Since 1992 when Dr. Olowoleni joined the University of Ilorin as a Principal Planning Officer, she steadily rose, from Principal Assistant Registrar to Deputy Registrar, serving in various units of the University. In the various positions she occupied, she had excellently overseen the day-to-day administrative running of different units in the University, notably among which are: The Academic Support Services (the academic hub of the University), Postgraduate School of the University and the Centre for Peace and Strategic Studies.
Dr. F.M. Olowoleni was appointed Registrar and Secretary to the Council of the University of Ilorin on April 28, 2018. She is the second female Registrar in the history of the University and the first with a Doctor of Philosophy Degree.
Besides the conventional educational preparation she had, Dr. Olowoleni also continuously sharpened and deepened her managerial capacity through various on-the-job trainings and seminars she attended on different aspects of University administration, some of which were a study visit in Operation and Administration of the Finnish University at the University of Turkey and Abo Akademi University; a training on Diversity Management in Dubai, UAE and a seminar on Legal issue in Procurement and Management in HEi's by the all African Universities Association (AAUA), Mauritius.
Dr. Olowoleni is a member of many professional bodies, including the Association of University Administrators (AUA), Manchester, United Kingdom; The Nigerian Institute of Management (NIM); The Association of Nigerian University Professional Administrators (ANUPA); and a member of the Association of Registrars of Nigerian Universities (ARNU).
In her free time, she advocates against use of illicit drugs can substance through her Non-Governmental Organisation (NGO) – LADAAF. She also enjoys travelling and reading.
The seasoned administrator is married to Dr. Francis Rotimi Olowoleni and they are blessed with three (3) children.